Icelandic film composer Atli Örvarsson and Australian director Patrick Hughes are an unlikely team to tackle U.S. roots music, but they pull it off, with a blues-themed score for The Hitman's Bodyguard that combines gospel choirs, a Hammond organ and a wailing electric guitar. "It's an exploration of jazz and blues and those genres in the context of film music," Örvarsson told MaxTheTrax, speaking by telephone from his Los Angeles studio in Santa Monica.
The buddy comedy from Millennium Films, distributed by Lionsgate, has been No. 1 at the box office since opening on Aug. 18, getting good word of mouth that seems to have expanded its audience beyond the typical action crowd. The film stars Samuel L. Jackson as the titular hitman, and Ryan Reynolds as the bodyguard charged with protecting him so he can testify at the Hague against an evil slav dictator (Gary Oldman). ComScore/Screen Engine's PostTrak survey reports audiences responding favorably to a standout performance by Salma Hayek as Jackson's incarcerated wife, and giving it 4 out of a possible 5 stars in its second weekend.
The action plays out over an international landscape that includes Amsterdam, London and Bulgaria. That the music manages to stand out against the non-stop action is a huge credit to both director and composer. Örvarsson and Hughes worked with Millennium Films music supervisor Selena Arizanovic to create a backing track that weaves the original score with pop classics including King Harvest's "Dancing in the Moonlight," Foreigner's "I Want to Know What Love Is" and — used memorably in a frenetic speedboat chase, Lead Belly's seminal 1939 ripper "Black Betty" (updated by Spiderbait).
The film even features a credible blues tune written and performed by leading man Jackson — "Nobody Gets Out Alive." But it is arguably Örvarsson's "Hitman's Bodyguard Theme" that that steals the show.  Harkening to the best of John Barry's James Bond themes, the instrumental track manages to mix the twangy guitars with gospel harmonies and a dance-friendly bass beat for something wholly original.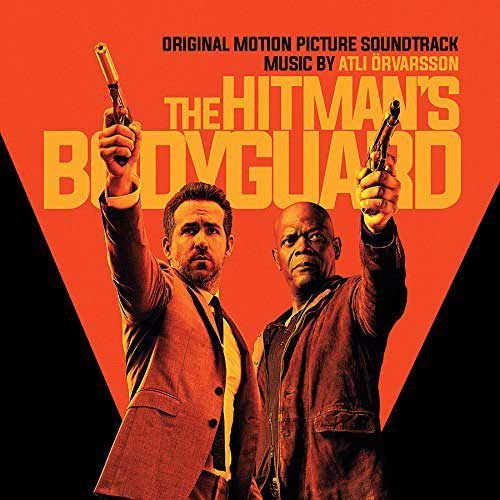 "I think almost anybody who does a score in this action vein is in some way influenced by John Barry, especially using the electric guitar in such an iconic way," said Örvarsson, who played in several rock bands in Iceland before coming to the U.S.
"My brother and I were on the equivalent of American Bandstand in Iceland when we were teenagers, and got our first record released when I was 16. Then I moved on to a couple of different bands in Iceland that were successful and popular, got to tour and play shows and have that rock and roll life." He tapped bass player Friðrik Sturluson from one of is former bands, "Sálin hans Jóns míns, to play on the Hitman's score. "That was the band I played with that had the most success, and they're still around."
Coming of age in the '80s era of new romantics, Örvarsson says he was a fan of the bands Propaganda and the Art of Noise, and influenced by Trevor Horn. "I grew up playing trumpet, and then started playing keyboard. It was such a synthesizer-heavy period, it piqued my interest. I think if I was born 10 years earlier I would have played guitar." Eventually Örvarsson decided to move on, "to keep growing as a musician," and enrolled in film music studies at Berklee before earning his masters in film composition at the North Carolina School of the Arts. 
While in school, he won BMI's Pete Carpenter Fellowship, which brought him to Los Angeles, where he got his commercial foothold working with Mike Post on TV's  NYPD Blue and Law and Order.  That brought him to the attention of Hans Zimmer (who, as it happens, is a former bandmate of Trevor Horn's). It was while at Zimmer's Remote Control that Örvarsson  got his first solo composer credit for the animated film Stuart Little 3 and collaborated on such films such as Pirates of the Caribbean: World's End, The Simpson's Movie, Iron Man and The Man of Steel. 
He still keeps his U.S. studio on site at Remote Control, although he is now a solo artist. He came to Hitman director Hughes' attention through Millennium, with whom he's worked on the 2009 film Thick As Thieves. "They submitted a bunch of demos and Patrick enjoyed mine." "Patrick is a huge blues music lover," says music supervisor Arizanovic. "We had a brief blues encounter when we worked on Expendables 3 together, but the idea on this one was to really integrate a blues feeling into the story — allowing it to provide an emotional depth and emotional direction."
"There's such an advantage to having played several instruments and all kinds of genres of music, from pop-rock to jazz to classical. And that's the beauty of film music, that you are called on to dig into all these different genres. I really have to credit Patrick, the director, for really allowing me to write."
The film is a hit for Millennium, having more than earned back its $30 million budget in two weeks of domestic release, pulling in $40 million since Aug. 18, according to comScore. Milan Records has released the soundtrack digitally and will issue it in vinyl on Nov. 11.