She lost the Album of the Year to Adele at the Grammys in February, but Beyoncé made Lemonade out of lemons, notching the global top selling album of 2016, bumping the British chanteuse and her 25 album to No. 2, according to the IFPI market report issued today.
In 2015, Adele reigned as the world's No. 1 most popular artist, according to the International Federation of the Phonographic Industry, a non-for profit that tracks worldwide music trends from its main office in London. For 2016, Drake got that honor (moving up from No. 9 in 2015), and also had the global top-selling single, "One Dance," which notched 12.5 million digital sales.
That compares to only 2.5 million physical album sales for Lemonade, underscoring digital's dominance as a global format. But not all territories are digitizing at the same rate. The world's biggest music market, the US, is 70% digital, while second biggest, Japan, is more than 70% physical, Warner Music Group International and Global Commercial Services CEO Stu Bergen said, joining IFPI CEO Frances Moore and other industry leaders at a press conference unveiling the figures.
Drake and Twenty One Pilots were the only artists to appear on top 10 charts for both the physical/download-only albums and global streaming charts, which at a glance looked to be something of a demographics indicator, with several legacy acts – including David Bowie, The Rollings Stones and Metallica – making it onto the top albums chart.
Prince and The Weeknd are the only artists who made it onto the Global Most Popular chart without appearing on either the album or streaming lists.
"In this environment, breaking an artist and building a global fan base isn't easy. If you're going to be successful, you can't be focused on a single format. Your approach needs to be all about what's right for the artist and their fans," Bergen said, citing Ed Sheeran, whose Divide album is the sales sensation of 2017. "Ed made an incredible third album and for whom we're leaving no stone unturned. In Russia that meant a social media campaign where people posted fan art with the hashtag #RussiaLovesEd, while in Japan it meant celebrity cats dancing to 'The Shape of You.'"
In an industry in which the vinyl revival "has been a headline grabber," according to Moore, there's something for everyone. Record execs on hand at IFPI's London office for the announcement were bullish on the numbers, but cautioned against complacency: "We're no longer running up a down escalator, but that doesn't mean we can relax," Warner Music Group International and Global Commercial Services CEO Stu Bergen said.
For instance, while streaming growth of 60% was bullish, Bergen couched it as "deceptive." "Streaming less than 30% of the global revenue, and digital only hit 50% for the first time. The biggest market, US, 70% digital, while next biggest, Japan, is over 70% physical. " Some genres are growing faster digitally than others, Bergen said, explaining that "In this environment, breaking an artist and building a global fan base isn't easy. If you're going to be successful, you can't be focused on a single format. Your approach needs to be all about what's right for the artist and their fans."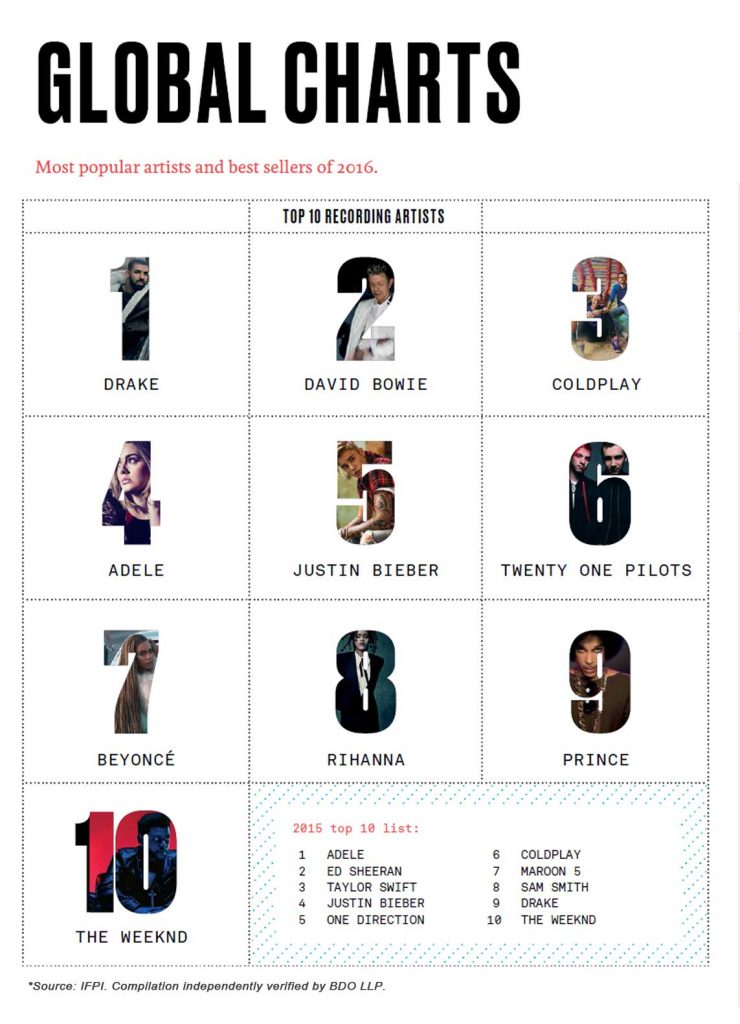 Global Top Selling Albums of 2016  (in millions*)
Lemonade Beyoncé   5
25 Adele        4
Views Drake 3
Hardwired…to Self-Destruct Metallica        1
Blackstar David Bowie    9
Blue & Lonesome The Rolling Stones      8
24K Magic Bruno Mars     7
Blurryface Twenty One Pilots       5
A Headful of Dreams Coldplay          4
A Pentatonix Christmas Pentatonix   4
*physical and digital, excluding streaming
Global Top Selling Singles of 2016  (in millions*)
"One Dance" Drake (feat. WizKid & Kyla)  5
"Love Yourself" Justin Bieber  7
"Closer" The Chainsmokers (feat. Halsey) 11.7
"Cheap Thrills" Sia  1
"Sorry" Justin Bieber 8
"Work" Rihanna 6
"Seven Years" Lukas Graham 4
"Don't Let Me Down" The Chainsmokers (feat. Daya & Konshens) 2
"I Took a Pill in Ibiza" Mike Posner 0
"Stressed Out" Twenty One Pilots 9
*Includes single-track downloads and track-equivalent streams
Most Popular Artists and Global Best-Sellers of 2016
Drake
David Bowie
Coldplay
Adele
Justin Bieber
Twenty One Pilots
Beyoncé
Rihanna
Prince
The Weeknd