International Music Day is Oct. 1, and the International Music Council has a host of special events to ring it in 'round the world. In Annapolis, classically trained Estonian violinist Mari-Liis Uibo will give a free concert  in the Rotunda of the Maryland State House. Brava!
There are a host of community-based activities taking place at parks and cultural centers in a multitude of locations, though admittedly, the idea has yet to really "take off," we're pullin' for 'em! There is actually a "competing" music day celebrated in the U.K. in May.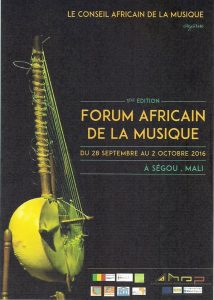 But the IMC's Oct. 1 date gets our vote, due to the visionary ambitions of the group, an arm of UNESCO (the United Nations Scientific and Cultural Organization). Formed at the behest of UNESCO in 1949, the IMC is based at UNESCO headquarters in Paris.
The IMC has an interesting global roster of programs year-round. From Sept. 29-Oct. 2, the African Music Council, in partnership with the International Centre for Research and Documentation on African Traditions and Languages and the Foundation on Niger River will offer a first-of-its-kind forum designed to explore music as a profession as well as its impact on the development of African society in Segou, Mali.
From Oct. 8-10, at the beautiful new facilities of the Puerto Rico Conservatory of Music in the capital city of San Juan, attendees will explore "Decolonizing Music," a musical gathering of the Council of Music of the Three Americas.
The IMC describes itself as: "the world's leading membership-based professional organisation dedicated to the promotion of the value of music in the lives of all peoples." A worthy cause. Time to redefine the meaning of WMD!