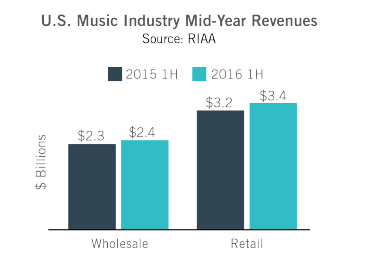 For the first half of 2016, strong growth in revenues from subscription streaming services more than offset declines in unit based sales of physical and digital music download products, according to the RIAA. Overall revenues at retail increased 8.1% on a year-over-year basis to $3.4 billion, the strongest industry growth since the late 1990's. At wholesale, value increased 5.7% to $2.4 billion.
Revenues from streaming services continued to grow strongly both in dollars and share of total revenues, the RIAA mid-year report proclaims. For the first half (1H) 2016 streaming music revenues totaled $1.6 billion, up 57% year-over-year, and accounted for 47% of industry revenues compared with 32% in 1H 2015. The category includes revenues from subscription services (such as Apple Music, TIDAL and paid versions of Spotify, among others), streaming radio service revenues that are distributed by SoundExchange (like Pandora, SiriusXM, and other Internet radio), and other non-subscription on-demand streaming services (such as YouTube, Vevo, and ad-supported Spotify).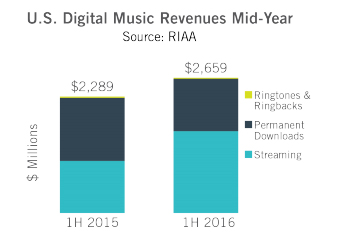 Paid subscriptions experienced massive growth in the first half of 2016. The entrance of new services like Apple Music and TIDAL, and growth from services like Spotify Premium, helped both revenues and the number of paid subscriptions more than double versus the prior year. First half revenues from subscription music streaming services surpassed $1 billion for the first time, growing 112% to $1.01 billion.
"2015 was a milestone year for streaming," the RIAA stated in announcing the news. "For the first time, paid subscriptions were virtually on-par with paid downloads as the biggest single format revenue source. Streaming became the overall largest revenue contributor by a
wide margin."
Revenues from permanent digital downloads (including albums, single tracks, videos, and kiosk sales) declined 17% to $1.0 billion for the first half of 2016. Digital albums continued the trend of outperforming individual tracks. The total value of shipments in physical formats was
$672 million, down 14% versus 1H 2015.