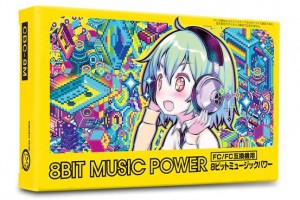 Nostalgia buffs who favor Nintendo Co.'s 1983 Family Computer video console will get a new music fix courtesy of Columbus Circle, which will release "8Bit Music Power," a collection of classic chiptunes. The Japanese accessories manufacturer says the collection of 12 original tunes is the first new commercial Famicon cartridge release in 21 years.
It will initially be available in Japan only (in the U.S., the Family Computer specs are slightly different, and it was marketed as the Nintendo Entertainment System, or NES. The Wall Street Journal reported that the initial "8 Bit Music Power" release will retail for the equivalent of about $30, and will play on NES units with an adapter.
"This was just a project among old Nintendo fans around us," a Columbus Circle spokesman told the WSJ. "We were surprised at the overwhelming reaction we've received," he said, adding that if demand among U.S. fans and retailers is likewise strong, they may make the product available here.
Since their heyday in the 1970s, music created with bleeps and bloops has had an avid following, with fans celebrating in live venues and in Best Buy aisles.
Hmmn, does this mean Chris Columbus' Pixels movie may have been a success if it rode the wave of an 8-bit "period" soundtrack instead of a state-of-the-art orchestral score?