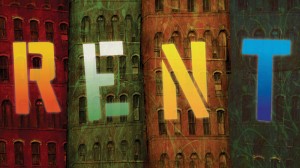 What started out as a warm fuzzy tribute to Jonathan Larson's Pulitzer Prize-winning play Rent has turned into a bit of a musical tussle. The Harbor Lights Theater Company in Staten Island, which just began touting its September 18 through October 4 production was blindsided today by news of another production by the  5th Floor Theatre Company, whose weekend revival at Long Island City's Secret Theatre, September 23-27, became the dominant theater story following a report in Playbill.
"I'm not familiar with the 5th Floor, but my they must be a non-professional company, because as per the licensing rules, there can be only one professional production per city," Harbor Lights Founder and Executive Artistic Director Tamara Jenkins told MaxTheTrax.
"We're the first equity theater company in Staten Island, and we're doing some amazing stuff. We just finished Gypsy, starring Tony nominee Sally Mayes. With our upcoming productions you'll see major talent coming over — Grammy, Tony and Oscar nominees. It's very exciting. Our director, Alex Perez, has toured Rent nationally and has a completely new vision he's going to present. We did not want a carbon copy, we wanted a fresh, young, cast – not of imitators, but of real people," Jenkins added.
The Harbor Lights Theater Company is based at the the Music Hall at Snug Harbor, a 680-seat venue, and the second-oldest concert hall in New York City (after Carnegie Hall).  Located on Staten Island's North Shore, it is part of the Snug Harbor Cultural Center & Botanical Garden, which is recently reaping the fruits of three decades of restoration and development. Jenkins and Jay Montgomery, who co-founded the HLTC in 2010, are using it as a cultural springboard to launch high-profile stage productions into a community that hasn't been known for its arts endeavors.
A representative from Music Theater International, which licenses the material for stage, wasn't familiar with the particulars of the dueling productions and said he would investigate and get back to us. Representatives for Secret Theater were contacted but could not immediately be reached for comment.
Charles Santoro is the Musical Director for the Harbor Lights production, whose case includes: Travis Artz (Roger,) Nick Devito (Mark,) Denzel Edmondson (Benny,) Madeline B. Fansler (Joanne,) Monte J. Howell (Tom Collins,) Michael J. Mainwaring (Angel,) Emily Jeanne Phillips (Mimi,) and Zuri Washington (Maureen.) Filling out the cast are Philip Bolton, Hannah K MacDonald, Nate McClure, Gavyn Pickens,  Ben Rosenbach, Michael Sheehy (Gordon,) and Josephine Spada.
The 5th Floor Theatre Company has Nick Brennan directing, with musical direction by Andy Peterson and choreography by John de los Santos. The cast is comprised of Bernard Holcomb (Collins), Mia Johnson (Joanne), Lindsay Lavin (Maureen), Nina Negron (Mimi),
 André Revels (Benny), Dan Rosenbaum (Roger),
 Daniel Clayton Smith (Mark) and 
Anthony Wright (Angel). The Secret Theater is  a "black box," which would put it at fewer than 100 seats.
A retelling of Puccini's La Boheme for the MTV-generation, Rent transfers Puccini's young artists to New York City's East Village and bohemian Alphabet City at the end of the millennium.  The late composer and playwright Jonathan Larson picked up a Pulitzer for drama for his work, which also won four Tonys. Rent's rollicking score boasts "One Song Glory," "Take Me or Leave Me," "I'll Cover You," and the now iconic pop anthem "Seasons of Love."
Rent originally opened Off-Broadway January 25, 1996, at the New York Theatre Workshop and moved to Broadway in April, going on to run 5,123 performances. In 2011 it was revived for a year. It's the ninth longest-running Broadway show and has earned north of $280 million.
If this is how much excitement the pre-anniversary stirs up, one can only imagine what 2016, the year of Rent's 20th Anniversary, will bring.