Steve Hampton has been scoring original music for television and film in Los Angeles for the past 25 years. A recent project, the "Ideas Are Scary" for GE, is a mini-masterpiece; the score amplifies and adds nuance to the story — that of an idea struggling to find its place in the world. (Let's just say prior to being accepted, the idea is found unappealing.)
We asked Hampton about his experience creating music for this spot, working with a client that takes music as seriously as does GE. Agency BBDO said the spot is intended to resonate with recent college graduates thinking about their careers. Hampton's own musical journey began at age 12 with a Delrey Sunburst electric guitar. He went on to earn a degree in music theory and composition from Wright State University in Dayton, OH, in 1980. He was one of the school's first guitar majors, and once he got into a recording studio his path was set. "That was like pulling the curtain back," he explained in a 2013 interview with the WSU magazine. "I liked the recording, the gear, writing music; I knew I wanted to be in music." Even today, he can frequently be found messing around in what he calls the "guitar forest" corner of his studio.
After college, Hampton moved to Anchorage, AK, where he played guitar in bars and started composing for commercials and indie films. Invited to record with some friends in Hollywood, Hampton was offered a job at the studio. In 1997 he teamed with John Adair to launch HamptonAdair, and the duo rocketed out of the gate as composers for NBC's "Just Shoot Me." They've since gone on to score dozens of shows, including "The Wizards of Waverly Place," "Jessie," "The Suite Life of Zack and Cody" (for which they also created the theme song) and "8 Simple Rules."
In 2004 he and Adair launched Emoto Music, specializing in advertising music. They've since sold the company — now a full-service music production house that does original composition as well as licensing artists for commercials, TV shows, short/feature-length and documentary films — but Hampton continues to composes for commercials exclusively through Emoto. The GE commercial "Ideas" was written, produced and recorded at Emoto's studio recording facilities with musicians from Allegro Entertainment.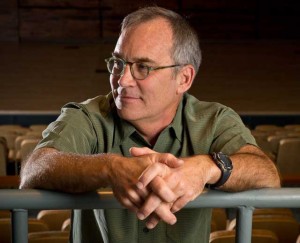 MaxTheTrax: The music for "Ideas Are Scary" sounds rather timeless and very GE. Working with a client that takes music as seriously as that company, were you asked to incorporate any themes they'd previously established?
Steve Hampton: For the GE "Ideas Are Scary" spot I composed an original melody with no request to consider or use a previous melody. I really loved the concept of the spot…the whole "ideas are scary" concept…and, as a composer, immediately related to it. It's so true!
MaxTheTrax: Did you compose to picture, or from a script and storyboards?
Steve Hampton: I watched the commercial through quite a few times and decided to approach the melody and sound totally as if from the perspective of the "idea monster." Very simple, honest, vulnerable and, of course, somewhat melancholy without being too much of a downer. I still wanted to incorporate a tiny wisp of hope, even in the beginning. Obviously, toward the end the music swells a bit as he is accepted by the GE folks. I felt that starting out with a solo clarinet and simple bassoon accompaniment would be a great way to achieve the emotional setting that I was feeling. Then the sordino (muted) strings enter to add weight and emphasize the emotion. The voicings are fairly simple so as to keep the sound authentic and honest.
MaxTheTrax: The harp was used very subtly, and adds a very nice touch.
Steve Hampton: The harp adds a bit of classiness and optimism on the ends of the melodic phrases. I had to be careful in the build to the end to not overdo the swell and vibe-­change, otherwise the "cheese button" would have been easily pressed!
MaxTheTrax: So, once you composed this mini-masterpiece, how did you bring it to life?
Steve Hampton: I composed this piece in my studio using sample libraries, and the final piece was recorded live at Emoto with top LA studio film-­scoring musicians. Myself, the Emoto crew and the ad agency team all felt strongly that this spot warranted a live orchestral recording to achieve the emotional pull that we were all striving for.
MaxTheTrax: The spot was released in different lengths. How did that work? Did a sound editor re-tool your original score?
Steve Hampton: The original version I composed was :65. For the shorter versions I had the luxury of actually arranging and recording them separately as opposed to editing out of the original. Much better results for this genre of music than trying to cut and smooth through editing.