Madison Gate Records will issue "Outlander: Original Television Soundtrack, Vol. 2" on CD and digital formats on September 25.  Fans who pre-order the album on iTunes and Amazon receive an instant download of an all-new extended version of the series main title theme, "The Skye Boat Song."  The full-length track was adapted and produced by composer Bear McCreary, who is nominated for an Emmy for his work on the series, and features vocal performances by Raya Yarbrough.
The soundtrack contains original music and period-accurate song adaptations by McCreary from across season one of "Outlander," with a focus on the last eight episodes. Among the new tracks found on the album — many at the request of fans across social media —  the "Wool Waulking Songs," – a pair of traditional folk tunes performed onscreen as part of the story narrative by cast members.  In addition, the album features a new folk recording by renowned Gaelic singer Gillebrìde MacMillan.
"Having grown up immersed in Scottish folk music, in particular the folk songs of the Jacobite era, I've often reflected that Outlander might be the score I was born to compose," McCreary said. "With the release of the second volume of the first season soundtrack, I'm thrilled that fans can finally experience the score from the entire first season in an album format.  I think of these two albums as two halves of a coherent musical whole. Themes introduced in the first are developed and matured in the second.  I am especially excited to present the full-length version of 'The Skye Boat Song,' which I produced along with vocalist Raya Yarbrough, specifically for this album."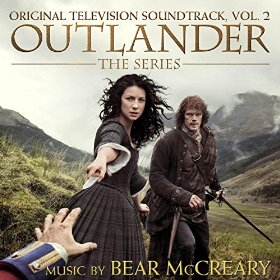 "Outlander" follows the story of Claire Randall, a married combat nurse from 1945 who is mysteriously swept back in time to 1743, where her passion is ignited by a chivalrous and romantic young Scottish warrior and she is torn between her irreconcilable lives. The "Outlander Original Television Soundtrack Volume One" was released in February.
The show, filmed in in Scotland, is currently distributed in more than 150 territories worldwide. The first U.S. season on the Starz network ended in May at #1 in total viewers among current series on Starz.  The Wall Street Journal called it "a nearly perfect season." The second season of Outlander is currently in production in Scotland and will debut on Starz in 2016. The hit series has been adapted for the screen by Ronald D. Moore from the best-selling books by Diana Gabaldon. The series has sold over 26 million copies, with all eight novels appearing on the New York Times best-sellers list.
The series adaptation for Outlander was developed by Ronald D. Moore ("Battlestar Galactica"). Moore, Jim Kohlberg and Andy Harries serve as executive producers of Outlander, which is produced by Tall Ship Productions, Story Mining and Supply Company and Left Bank Pictures in association with Sony Pictures Television. The show returns to Starz for a second season in 2016.
"Outlander: Original Television Soundtrack, Vol. 2" was produced in collaboration with McCreary's Sparks & Shadows label. Madison Gate Records  is the in-house, independent record label of Sony Pictures Entertainment. The label was founded in 2010 to create, distribute and market music and related products from today's top films and television programs. See McCreary perform music from "Outlander" at Comicon July 2014.
Track List:
Outlander – The Skye Boat Song (Extended) (feat. Raya Yarbrough)
Fort William Rescue
The Summoning (feat. Raya Yarbrough)
The Key to Lallybroch
On the Road
An Fhìdeag Airgid (feat. Gillebrìde MacMillan)
The Devil's Mark
To the Begging I Will Go
To Wentworth
Tale of the Tusks
Tracking Jamie
Wool Waulking Songs
Charge of the Highland Cattle
Hand Surgery
Setting Sail (feat. Raya Yarbrough)
Running Time: 65 minutes
Pre-order on iTunes: smarturl.it/OutlanderV2_iTunes
Pre-order on Amazon: smarturl.it/OutlanderV2_Amazon