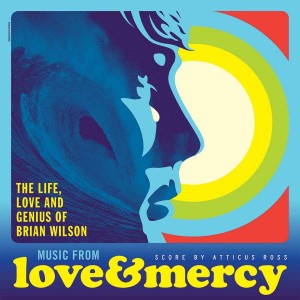 Capital Records today drops a global digital release of "Music From Love & Mercy," a collection of 13-tracks from the summer feature film about "the life, love and genius of Brian Wilson"  that will be released to CD September 18. Songs include "One Kind of Love," which Beach Boys co-founder Wilson wrote specifically for the film, as well as hits like "I Get Around" and "Good Vibrations." Also Paul Dano — who plays the younger Wilson in the Lionsgate film — performing "God Only Knows," the eponymous title track, from a 1988 song by Wilson, and contributions by composer Atticus Ross (Oscar-winner with Trent Reznor for The Social Network), whose name is attached 11 songs on the film's credits.
The soundtrack is produced by Wilson, the Ross and the film's director and producer Bill Pohland. The filmmakers were somewhat hamstrung in not having rights to the entire Beach Boys catalog (nor the band's name). Apparently the complicated music rights were the reason for the soundtrack's delay (the film debuted  The movie's backers were somewhat hamstrung over not having rights to the entire Beach Boys music catalog, nor rights to use the band's name. But the film did have the cooperation of Wilson, now 73, as well as that of his ex-wife, Melinda Ledbetter. The narrative focuses of two specific periods in Wilson's life: the 1960s and his musical heyday, the 1980s, when by most accounts he devolved into psychosis.
In Capital's announcement for the soundtrack, Wilson calls Ross' score "absolutely brilliant" and said he was "able to tastefully capture some of the most joyful and dark moments of my life."  Ross has said that he took inspiration from Jay-Z's The Grey Album mashup and The Beatles' classic White Album. He lauded Wilson's generosity in allowing "unprecedented access to his archives."
Wilson continues to tour, and said he'll do so through next year, the 50th anniversary of the Beach Boys' groundbreaking Pet Sounds, recording sessions for which are documented in detail in the film and which Ross claimed inspiration.
'Music From LOVE & MERCY'  [digital; CD]
1. The Black Hole – Atticus Ross
2. Don't Worry Baby – The Beach Boys
3. Silhouette – Atticus Ross
4. God Only Knows – Paul Dano
5. God Only Knows – The Beach Boys
6. Believe – Atticus Ross
7. Good Vibrations – The Beach Boys
8. Losing It – Atticus Ross
9. I'm Right Here – Atticus Ross
10. The Bed Montage – Atticus Ross, The Beach Boys, The Four Freshmen
11. Intersection – Atticus Ross
12. Love and Mercy (Live) – Brian Wilson
13. One Kind of Love – Brian Wilson