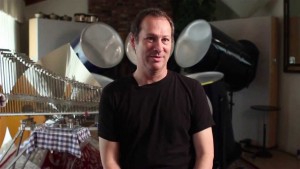 Clint Martinez, former drummer for the Red Hot Chili Peppers, Lydia Lunch and the Dickies, among other influential L.A. bands, has expanded his repertoire to include commercials. Martinez composed the score for the memorable Ford Lincoln campaign featuring Matthew McConaughey.
Interestingly, Martinez segued to Lincoln commercials via Lincoln films: he composed the score to the 2011 McConaughey-starrer The Lincoln Lawyer, among many film credits, including several for Steven Soderbergh.
Martinez, born in the Bronx and raised in Ohio, moved to California in 1976, just in time for the upheaval occasioned by punk. The front hall of his hillside home-cum-studio sports framed album art from the landmark '60s album Trout Masque Replica, signed by "Don", a testament to Clint's one-time role as drummer in the final incarnation of Captain Beefheart's legendary Magic Band. He moved into filmed entertainment with an episode of the mid-80s TV series "Pee-Wee's Playhouse," which caught the attention of neophyte auteur Soderbergh, with whom he's had many noteworthy collaborations.
The hammered dulcimer throughoutKafka, the brooding strings set against a spare piano in The Limey, the steel drums and ambient sounds that lend texture to deep space for Solaris — all composed by Martinez (as was Soderbergh's scores for Gray's Anatomy, Schizopolis and Traffic, the latter winning four Oscars and earning a Grammy nomination for its music).  Martinez also worked on films for Allan Moyle (1990's Pump Up The Volume), Paul McGuigan's Wicker Park (2004) and James Cox's Wonderland (2003), a canon that prompted one critic to describe his work as imbued with "tonal palettes unlike any currently heard in movie theaters." His style is certainly varied, moving from airy classical to the techno club sounds used to suggest sordid mystery for Joe Carnahan's Narc (2002).
Martinez' next commercial project will be announced shortly, according to his agent, John Tempereau of Soundtrack Music Associates. The next feature to showcase his evocative sound stylings is the 2016 horror release The Neon Demon, for Danish director Nicolas Refn.