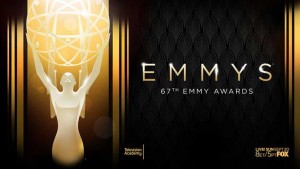 It's a diverse group of composers and songwriters to vie for Emmy gold from the Academy of Television Arts & Sciences at the 67th Annual Emmy Awards. From veterans like Sean Callery, with 13 prior noms and three wins, to Primetime Emmy debutants like Kevin Kliesch, who is nominated for a show that earned him a Daytime Emmy earlier this year. There's Rachel Portman, who has an Oscar on her mantle for 1997's Emma but no Emmy, despite two prior noms, and a slew of Emmy newbies.
Making their entry in the Emmy race: "Transparent" theme composer Dustin O'Halloran; Greg Phillinganes, music director on "Stevie Wonder: Songs in the Key of Life," and All-Star GRAMMY Salute"; Oscar-winner Stephen Oremus (Frozen), music director for the Oscarcast; and "Chef's Table" composer Duncan Thum. Peter Franklin and Jack Tantleff, the duo behind "Elf: Buddy's Musical Christmas," are also first-timers, as is "Glee" actor Darren Criss, for music and lyrics to the song "This Time." Meanwhile, writer-producers Mike Reiss and Kyle Dunnigan had previous noms, but make their first appearance in the music categories.
Jeff Beal and Abel Korzeniowski are the only multiple nominees on the music list (with nods for main title and composition), while Korzeniowski's "Penny Dreadful" and the Oscars were the only shows twice recognized.
Broadway blue-chip David Chase (not he of "Sopranos" fame) is historically the most-lauded honoree on the list, with 22 prior Primetime nominations and 6 trophies. Among agencies, WME tops the chart with nine clients nominated. Fortress came in second with six.  There are 41 composers competing in all.
The 67th Annual Emmy telecast airs on Fox, Sunday, Sept. 20 at 8 p.m. ET/5 p.m. PT.
Outstanding Music Composition For A Limited Series, Movie Or A Special (Original Dramatic Score) – 2015
24: Live Another Day
"11:00 A.M. – 12:00 P.M."
FOX
Sean Callery, Music by
American Horror Story: Freak Show
"Orphans"
FX Networks
Mac Quayle, Music by
Sofia the First: The Curse of Princess Ivy
Disney Channel
Kevin Kliesch, Music by
Outstanding Music Direction – 2015
Stevie Wonder: Songs In The Key Of Life – An All-Star GRAMMY Salute
CBS
Greg Phillinganes, Music Director
Sweeney Todd: The Demon Barber Of Fleet Street (Live From Lincoln Center)
PBS
Alan Gilbert, Conductor and Music Director
Outstanding Original Main Title Theme Music – 2015
Outstanding Music Composition For A Series (Original Dramatic Score) – 2015
Chef's Table
"Francis Mallmann"
Netflix
Duncan Thum, Music by
Glee
"Dreams Come True / Song Title: This Time"
FOX
Darren Criss, Music & Lyrics by
Inside Amy Schumer
"Cool With It / Song Title: Girl You Don't Need Make Up"
Comedy Central
Kyle Dunnigan, Music & Lyrics by
Jim Roach, Music by
Sons of Anarchy
"Papa's Goods / Song Title: Come Join The Murder"
FX Networks
Bob Thiele, Music & Lyrics by
Kurt Sutter, Music & Lyrics by
Jake Smith, Music & Lyrics by